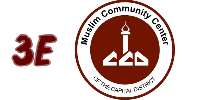 The Muslim Community Center welcomes you to the "Three's Enough" Basketball League, also known as the "3E". A fun, affordable and ground breaking, 3 on 3 Basketball League that has launched and been initiated, right here in the Capital Region.
The 3E is the direct alternative to your common and local Adult Basketball League which provides the same effort and energy needed to participate, but with a smaller court, and fewer players participating. In turn, what derives from the 3E is fewer injuries, less wear and tear on your body, a safer environment (including, a less than likely chance to catch Covid-19) all while getting the same sweat, same competition and the same satisfaction as your local Adult Basketball League.
What really makes the 3E exciting and gives the League a leg up on the rest of the basketball leagues that are open to the community, besides being more affordable, is the 2 styles of play: Half Court and Full Court (which includes our 4 point shot!!). Players who have participated in the 3E, love the fact that the players are in control of the league for the majority of the time, which results in Guaranteed Player Satisfaction!
3E…….If you are a fan of the game of basketball, this is something you must experience for yourself. Come watch or come participate and see what everyone will be talking about all throughout the Capital Region.
5 on 5 is good. but THREE IS ENOUGH!!!
Teams
1
Top Flight
8

Knicks

2
Splikak
9

B.M.F

3
Tryhards
10

Team Takeover

4
Dogs Only
11

Next One's Up

5
Jumanji
12

MBlokk

6
Grillo Glue
13

Get Tropical

7
Underground Railroad
14

Free Agents
Standings
1
Next One's Up
7 – 1
8
Knicks
3 – 5
2
Dogs Only
6 – 2
9
Splikak
3 – 5
3
Try Hards
6 – 2
10
Team Takeover
2 – 6
4
Jumanji
5 – 3
11
Free Agents
2 – 6
5
Underground Railroad
5 – 3
12
MBlokk
2 – 6
6
B.M.F.
5 – 3
13
Grillo Glue
1 – 7
7
Top Flight
5 – 3
14
Get Tropical
1 – 7
Basketball Game Schedules
Time
Court A
Court B
5.00 pm
MBlokk vs Get Tropical
L(F) – L(F)
Splikak vs Top Flight
L(66) – W(71)
6.00 pm
Team Takeover vs Grillo Glue
W(70) – L(48)
Next One's Up vs Knicks
L(59) – W(71)
7.00 pm
Underground Railroad vs Tryhards
L(46) – W(70)
B.M.F. v FREE AGENTS
W(70) – L(31)
8.00 pm
Jumanji vs Dogs Only
L(68) – W(71)
–
Time
Court A
Court B
5.00 pm
Grillo Glue vs Top Flight
L(38) – W(71)
Knicks vs Underground Railroad
W(70) – L(39)
6.00 pm
Free Agents vs Team Takeover
W(71) – L(55)
MBlokk vs Next One's Up
L(41) – W(72)
7.00 pm
Tryhards vs Splikak
L(F) – W(F)
Jumanji vs Get Tropical
W(70) – L(61)
8.00 pm
Dogs Only vs B.M.F
L(54) – W(71)
–
Time
Court A
Court B
5.00 pm
Top Flight vs Tryhards
L(F) – W(F)
Splikak vs Knicks
L(63) – W(70)
6.00 pm
Get Tropical vs B.M.F
L(64) – W(70)
Next One's Up vs Jumanji
W(70) – L(55)
7.00 pm
Underground Railroad vs MBlokk
W(72) – L(46)
Grillo Glue vs Free Agents
L(66) – W(70)
8.00 pm
Team Takeover vs Dogs Only
L(63) – W(70)
–
Time
Court A
Court B
5.00 pm
Dogs Only vs Grillo Glue
W(70) – L(51)
KNICKS v GET TROPICAL
L(F) – L(F)
6.00 pm
SPLIKAK v NEXT ONE'S UP
L(67) – W(71)
MBLOKK v B.M.F.
L(F) – L(F)
7.00 pm
TEAM TAKEOVER v TRYHARDS
L(69) – W(70)
TOP FLIGHT v FREE AGENTS
W(70) – L(48)
8.00 pm
JUMANJI v UNDERGROUND RAILROAD
W(70) – L(69)
–
Time
Court A
Court B
5.00 pm

Free Agents

vs Dogs
Only
L(56) – W(70)

Tryhards

vs

MBlokk


W(70) – L(67)
6.00 pm

Get Tropical

vs

Grillo Glue


L(F) – W(F)

Next One's Up

vs Team
Takeover
W(72) – L(47)
7.00 pm

Splikak

vs

Jumanji


W(70) – L(68)

Top Flight

 vs

Knicks


W(71) – L(54)
8.00 pm

Underground Railroad

vs B.M.F
W(71) – L(50)
–
Time
Court A
Court B
5.00 pm

Free Agents

vs

Get Tropical


L(58) – W(70)

B.M.F

vs

Splikak


W(70) – L(67)
6.00 pm

Jumanji

vs

Tryhards


W(71) – L(69)

Team Takeover

vs

Underground Railroad


L(49) – W(70)
7.00 pm

Dogs Only

vs

Top Flight


W(F) – L(F)

Grillo Glue

vs

Next One's Up


L(65) – W(71)
8.00 pm

Knicks

vs

MBlokk


L(F) – W(F)
–
Time
Court A
Court B
5.00 pm

Knicks

vs

Jumanji


L(F) : W(F)

Get Tropical

vs

Dogs Only


L(F) : W(F)
6.00 pm

Next One's Up

vs

Free Agents


W(71) : L(49)

Underground Railroad

vs 

Grillo Glue


W(71) : L(41)
7.00 pm

Splikak

vs Team
Takeover
L(63) : W(70)

Tryhards

vs 

B.M.F


W(70) : L(63)
8.00 pm

Top Flight

vs

MBlokk


L(F) : W(F)
–
Time
Court A
Court B
5.00 pm

Get Tropical

vs

Top Flight


L(F) : W(F)

Grillo Glue

vs

Splikak


L(F) : W(F)
6.00 pm

MBlokk

vs

Jumanji


L(F) : W(F)

Dogs Only

vs

Next One's Up


L(49) : W(70)
7.00 pm

Free Agents

vs

Underground Railroad


L(F) : W(F)

Tryhards

vs

Knicks


W(F) : L(F)
8.00 pm

B.M.F

vs

Team Takeover


W(F) : L(F)
–
Week 9 (December 4th) Playoffs
Time
Court A
Court B
5.00 pm
Game 1
Grillo Glue v Get Tropical
L(F) – W(F)
Game 2
Free Agents v MBlokk
W(72) – L(36)
6.00 pm
Game 3
Jumanji v Team Takeover
W(70) – L(51)
Game 4
Tryhands v Knicks
W(71) – L(65)
7.00 pm
Game 5
B.M.F v Splikak
L(69) – W(70)
Game 6
Underground Railroad v Top Flight
L(58) – W(71)
8.00 pm
Game 7
Next One's Up v Get Tropical
W(70) – L(56)
Game 8
Dogs Only v Free Agents
W(71) – L(46)
Week 10 (December 12th) Playoffs
Time
Court A
7.00 pm
Game 10
Tryhards v Top Flight
W(71) – L(53)
8.00 pm
Game 12
Dogs Only v Tryhards
W(71) – L(58)
Week 11 (December 18th) Playoffs
Time
Court A
7.00 pm
Game 9
Jumanji v Splikak
W (71) – L(51)
8.00 pm
Game 11
Next One's Up v Jumanji
W(70) – L(53)
Week 12 (December 26) CHAMPIONSHIP
Time
Court A
6:30 pm
CHAMPIONSHIP
Next One's Up v Dogs Only